Clive Cussler
"My friends joke that I raised the Titanic and never left the Rockies."

Clive Cussler, who is often regarded as the grandmaster of adventure, grew up in Alhambra, California. He lived a full life having attended Pasadena City College for two years, and having also served as an aircraft mechanic and flight engineer in the Air Force during the Korean War. Clive starting writing in 1965 and published his first novel in 1973 titled The Mediterranean Caper featuring his most famous protagonist Dirk Pitt.
---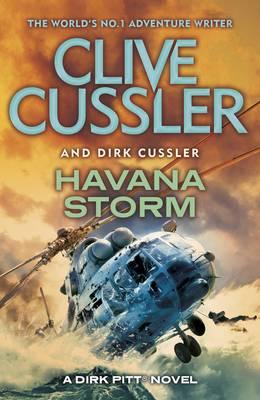 POPULAR!!! Havana Storm: A Dirk Pitt Novel
While investigating a toxic outbreak in the Caribbean Sea that may ultimately threaten the United States, Pitt unwittingly becomes involved in something even more dangerous—a post-Castro power struggle for the control of Cuba. Meanwhile, Pitt's children, marine engineer Dirk and oceanographer Summer, are on an investigation of their own, chasing an Aztec stone that may reveal the whereabouts of a vast historical Aztec treasure. The problem is, that stone was believed to have been destroyed on the battleship Maine in Havana Harbor in 1898, which brings them both to Cuba as well—and squarely into harm's way. The three of them have been in desperate situations before . . . but perhaps never quite as dire as the one facing them now.
Buy your copy of Havana Storm here!
---
Clive Cussler's most famous fiction series is the Dirk Pitt series which explore interesting alternative history worlds such as if if Atlantis was real and if Abraham Lincoln was kidnapped and not assassinated. Clive has an extensive bibliography. He has been the author and co-author of more than fifty books and five best-selling series. His books have been published in more than 40 languages and is sold in more than 100 countries. Clive Cussler's bestselling novels include Pacific Vortex, Mediterranean Caper and Iceburg.
As well as being a well respected author, Clive is also the founder and chair of the National Underwater & Marine Agency, a non for profit dedicated to American maritime and naval history. Furthermore, he is a fellow in the Explorers Club of New York and the Royal Geographic Society in London. He's also a classic automobile enthusiast who owns 85 custom coachwork and 50s convertibles to be found anywhere.